The following is adapted from Pastor Angela's introduction to the Fundraising Meeting, held at the conclusion of the church service on Sunday, January 21.
As your pastor, I've only served here for 3 years, so I don't have the attachment to this physical property that many of you have. I love the people – that's what makes church for me.
My job, each and every week, is to pour over the Scriptures and to listen for God's voice and to try to express to you what I believe God is calling us to do in this place, at this time.
Last month, I shared that I believe we are being called to an intentional time of fundraising to care for the house of God. I cited a Scripture from Exodus headed: "Offerings for the Tabernacle." In this passage, God established an offering among the people to pay for "the dwelling place of God."
The Lord said to Moses, "Tell the Israelites to bring me an offering. You are to receive the offering for me from everyone whose heart prompts them to give.  Ex 25:1-2
There is a lot of discussion in theological circles about how much money is spent on property verses how much money is spent on outreach. There are churches that decide to sell their buildings and meet in homes or schools and spend all of their money on outreach. I must admit that there is something appealing about that. Because there are churches that have become very "me" ministry focused.
But friends, this church is not one of them. 

This church's building – its physical space – is an important part of this community.
 We are the meeting place for our Senior Citizens on a monthly basis.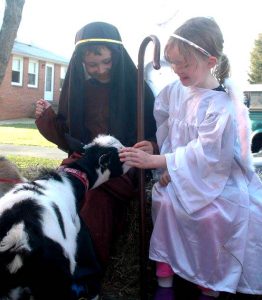 We are the base of operations for the entire community to participate in the Blessings Box.
We are the host of a large Boy Scout troop and Venturing crew.
We are the place where the word of God goes out each year during the Live Nativity.
We are the gathering place for Martha Early and the Community Sewing day that brings in volunteers from all over the county.
We are the place that helps our community raise its children, with Rainbow Preschool and Kids' Club.
We are the place that hosts the library's book clubs and the Friends Uniting Nokesville meetings.
And throughout the week – not just on Sunday mornings, we are the place where God's word is read and studied and lived out.
This place matters. And we are called this year to tend to this place so that it will continue to be the place where God's love and light is witnessed to and by the community. Amen.
**Following this presentation, the list of fundraising ideas was presented. To find your place to serve, or to make your financial contribution, please contact either Pastor Angela or Polly Flory – the chair of the fundraising committee. We look forward to hearing from you.