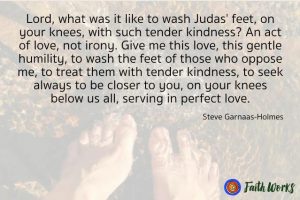 Thursday, March 29 – 7:00 PM
Maundy Thursday Love Feast Celebration – All are welcome to observe or participate as we partake of four elements of worship:  Silent Confession, Footwashing, Agape Meal and Communion.  This is perhaps the most meaningful service we share together in community.
Friday, March 30 – 7:30 PM
This year's Community Good Friday Service is at Nokesville United Methodist Church at 12550 Aden Road.  The pastors and choirs from NUMC, NCOB and Asbury United Methodist Church all participate in this moving worship experience.
Sunday, April 1 – Easter
Join us as we celebrate Easter together.  Coffee Fellowship is at 9:30 am, Church School is at 10:00 and the Easter worship service begins at 11:00 AM.  All are truly welcome!