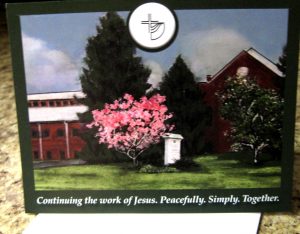 The Outreach ministry team is selling note cards, with the proceeds benefiting the Major Maintenance fund.  The front features an original watercolor of the church painted by Chris Taylor, along with our mission of Continuing the work of Jesus.  Peacefully. Simply. Together.
The note cards come in packs of 10 with envelopes and sell for $10.00.  In addition to supporting the Major Maintenance fund, why not consider these note cards a tool to develop the spiritual discipline of Gratitude?  Make it your goal to send 10 thank you notes this year – thanking people who have touched your life in some way.
Drop by or call the church office to purchase your cards.
"Be joyful always; pray continually; give thanks in all circumstances, for this is God's will for you in Christ Jesus." ~~ I Thessalonians 5:16-18