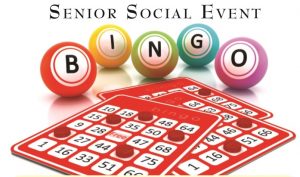 On the third Wednesday of each month, from 11:30 – 1:00, we host the Senior Social Event where folks (aged 65+) from all over the community gather together to eat, laugh, catch up and enjoy an activity.  In June, our activity was BINGO!
Each month, I prepare a very brief devotion to begin our time together.   When possible, I like to think of a Scripture that fits for our theme – not an easy task for BINGO!
However, after much thought, I discovered that BINGO is kind of a neat illustration of God's grace – if you have a little bit of an imagination!
Ephesians 2:8 says:  "God saved you by his grace, through faith. And you can't take credit for this; it is a gift from God."
BINGO is kind of that way.  You can't "earn" a win in BINGO.  You can't work harder at BINGO than your neighbor.  But you do have to play – and you do have to pay attention.
Of course, with BINGO, there's only one winner each game – so the illustration breaks down there.  Because we know God's grace is available to all.  And for this, we are grateful.