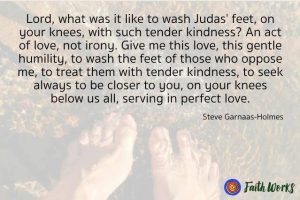 One of the defining traditions of the Church of the Brethren is it's twice a year celebration of Love Feast. This year, the service is Sunday, October 14 at 7 PM.  During Love Feast, we gather to sing and eat and serve one another. It is one of the most meaningful rituals we have, and many other churches "borrow" our tradition because it is so lovely.  Pastor Angela wants to focus on the celebratory aspect of Love Feast and will be using a Prodigal Son theme for this service.
This is not a carry-in meal – a very simple spread is provided. All are welcome, but if you've never attended a Love Feast before, you are especially welcomed. You may participate in as many of the elements as you feel comfortable, and simply observe the rest. No one is keeping track!
Make it a priority to come and deepen your relationship with your church family and with God.