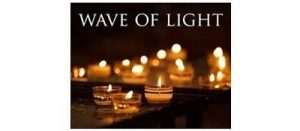 Nokesville Church of the Brethren is hosting a Wave of Light service on Monday, October 15 at 7 pm. All are welcome to attend.
Founded in 2003, the Wave of Light service provides a space for baby loss families, friends and loved ones from around the world to join in honor and remembrance of their loved and longed for babies.
As each timezone lights and keeps their candles burning for an hour, there is a continuous chain of light that spans the globe in memory of all children who pass away during pregnancy and in infancy.
Out of respect for our grieving families, nursery care is available for children ages birth – 3.