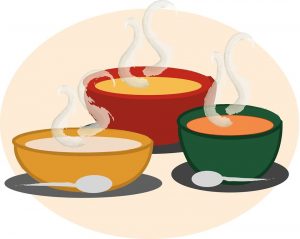 Please Join us for "Soup"er Sunday! On Sunday, March 24th the Youth will be taking donations for Quarts of soup. Want an easy Sunday Lunch or Dinner without all the hassle? Grab some fresh made soup!
The youth will meet with the soup makers at 6:30 on Saturday the 23rd to make the following soups: Vegetable, Pasta Figole, Chicken Noodle, Pasole, Broccoli and Cheddar, Tomato and maybe more! Come on down to the kitchen after Church on the 24th and try a cup or pick up a quart to take home!
To make the soups and any help-supplies, crock pots etc.-would be appreciated. Please let us know if you think you may be interested in making or eating soup so we can plan accordingly.