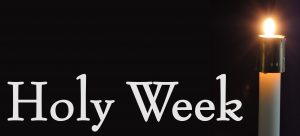 The most meaningful time of year for Christians is Holy Week.  It begins Sunday, April 14 during 11:00 am worship, with the children leading the palms processional as we recognize Palm Sunday – Jesus' triumphant entry into Jerusalem.
Thursday, April 18 at 7:00 pm, we reenact the Last Supper in this most Brethren of services – the Love Feast.  We share in fellowship with a simple meal.  We share in service by washing one another's feet.  We share in love and remembrance with communion.  All (those who are not members or even Brethren) are welcome to participate or observe, as you are comfortable.
Friday, April 19 at 7:30 pm, we will host the Community Good Friday Service, where we contemplate the crucifixion of Christ.  This meditative service features a time of silence, Scripture reflections and the combined choirs from NCOB and the Nokesville United Methodist Church singing a response to each reading to reinforce the mood.
The week culminates with the celebration of the Resurrection – the Easter Sunday service at 11:00 am.  In order to truly appreciate the joy of this service, it is important to make it a priority to experience the events of the week that leads up to it.  Commit to walking in the footsteps of Jesus on his journey to the cross, and to celebrating his victory over death.