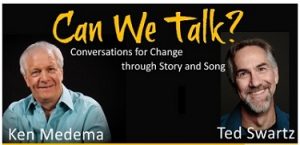 We are so excited to announce that on Friday, March 6 at 7 pm, the Northern Virginia Churches of the Brethren are hosting a night of music and conversation with Ken Medema and Ted Shwartz. This concert will be held at Manassas CoB.
Ken Medema is a fixture at Brethren events, and the author of the beloved hymn "Lord, Listen to your Children Praying". For four decades, he has inspired people through storytelling and music. Though blind from birth, Ken sees and hears with heart and mind.  His ability to capture spirit in word and song is unparalleled.
Ted Swartz has performed at countless Brethren events as well. He is the creator or co-creator of over a dozen plays, and an accomplished speaker and teacher, melding theater and comedy with issues of creativity, theology and faith in a profound and engaging presentation.
These two have joined forces and will provide a rollicking 90-minutes of story, song, laughter and moments of serious reflection around listening and conversation, especially when there is seemingly so much disagreement on issues in the church and society. This show includes classic and new material. You will never be more than a few minutes from a laugh or a moment that makes you hold your breath. Don't miss this opportunity! Invite your friends!
The concert is free, but a free-will offering will be taken to support New Community Project.