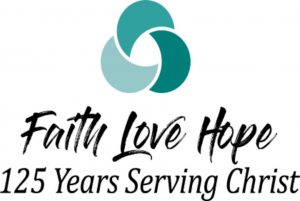 Nokesville Church of the Brethren will be celebrating its 125th Anniversary with a homecoming celebration on the weekend of August 29 & 30, 2020.  Please mark your calendars and plan to join us.
Our theme for this homecoming is based on I Thessalonians 1:2-3, which reads:  "We always thank God for all of you and continually mention you in our prayers. We remember before our God your work produced by faith, your labor prompted by love, and your endurance inspired by hope in our Lord Jesus Christ."  Thank you to Debbie Brunner for creating this logo, based on our theme!
The committee has lots of great ideas for that weekend, including a "virtual tour" of the Valley View Church; a picnic in Nokesville park, where a softball game just might break out; the unveiling of a new commemorative wall hanging; new t-shirts; and a worship service full of gratitude for 125 years of being Christ's body in this place, followed by a carry-in meal.
If you have any suggestions for ways we can enhance the event, or if you have names and addresses of individuals you would like to have invited (or address updates since our celebration in 2016), please contact Nancy Hedges (Chairman) 703-361-7528 or nhedges786@gmail.com.
Updates will appear in Sunday bulletins and the February thru July/August Newsletters.  Please share this news far and wide!  All are welcome.