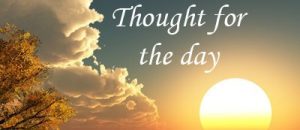 Psalm 34:1 ~~ "I will bless the LORD at all times; His praise will always be on my lips."
This is basically the Biblical mandate to make lemonade out of lemons.  In an effort to help one another do that, we will occasionally be providing personal stories of gratitude and praise.  If you have a story to share, please reach out to Tracey in the office or Pastor Angela.  Our first story is from Ben Bear.
***
"One thing I've rejoiced in lately is how all the doing-things-differently changes will be memories for years to come. I'm reminded of how I only ever missed one Christmas away from Nokesville – my first year in Brethren Volunteer Service when I was in Colorado.
I worked the night shift Christmas Eve and slept at the homeless shelter shelter where I worked as part of my project. In the morning, I got up and made Christmas breakfast for about two dozen shelter guests, including four kids. I went home, slept, felt like crud because I had a cold, ate half a gallon of ice cream, talked to the family on the phone while opening a few gifts, and then went back to work for the afternoon shift because we were short-staffed.
Christmas is always a special time with family, but that is the only year that I can consistently remember without it blurring with all the other years, and I deeply value that. It's my hope that, when all is said and done, others will have a similar appreciation for the disruption this season has caused."
~~Ben Bear's Thought for Today