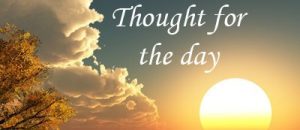 ~~Today's thought comes from Stacy Bowser~~
For God has not given us a spirit of fear and timidity, but of power, love, and self-discipline. 2 Timothy 1:7 NLT
During difficult times, heroes emerge among the masses that prove there is still goodness in this world. News outlets and social media shine a spotlight on those working on the frontline – whether it be firefighters and police officers during 9/11, construction workers and FEMA after a hurricane, or medical staff during our current Covid-19 pandemic. It is easy to pinpoint who the heroes are and it is just as easy to feel useless when we are told to stay home and not do anything at all.
This reminds me of a character from Harry Potter: Harry's godfather Sirius Black. If you are not familiar with the story (some spoilers ahead), Sirius is a criminal who serves several years in prison, escapes, and eventually is found innocent by Harry Potter and a small group of wizards. However, to the rest of the world, he remains at large and he is forced to go into hiding. When terrible things begin to happen in the wizarding world and his peers actively fight against the darkness, Sirius is instructed to stay home, hunker down, and watch everyone else make a difference. He feels completely useless.
But out of everyone that Harry Potter knows, Sirius is the one person who Harry wants to speak to the most. His presence and listening ear is the one thing that Harry needs when he is at his worst. Sirius's commitment to staying home and being there for him means far more than catching dark wizards or going on secret missions.
Right now, it is easy to feel useless like Sirius. What can we do to make these times a little brighter? The answer: It is the little things we can do: Call a friend or family member, write some emails or send positive messages, send photos of teacup pigs – reach out to someone who may be feeling blue. Every small gesture and every tiny act of kindness can be a miracle to someone. Even if the media never covers the happiness generated by these acts, and even if only one person smiles by your thoughtfulness, know that you can be a hero in your own way.
Stacy Bowser
~~If you would like to share a thought, please send it to Pastor Angela.  What a wonderful way to minister to one another.