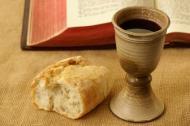 This Thursday, April 9, at 7:00 PM, we will be gathering around our computers to share in Virtual Love Feast.  The other Northern Virginia churches will be gathering at the same time, so our fellowship is deep and wide.
Go to www.VirtualLoveFeast.com, and click on the "YouTube" button.  The first voices you hear will be familiar to you – Pastor Angela, Lucas, and Eric open the evening with a reading from the Gospel of John.  You'll hear them again later in the service, along with many other voices you may recognize:  Tim and Audrey Hollenburg-Duffy; Mandy North; Matt Rittle; Richard Wehrle; Bill Scheurer from On Earth Peace; Steve Schweitzer, Dan Ulrich, and Denise Kettering-Lane, all from Bethany Seminary; and many more.
This time of worship features familiar Scripture, hymns, and invitations to confession and communion.
We would like to invite you to partake in communion in your home.  If you are local-ish, please contact Pastor Angela if you'd like to participate by Tuesday evening.  On Wednesday, she will bring you a "communion packet" and set it outside your door – with a wave and a smile!
Prior to the start of the service, you'll need to fill your cup with the liquid of your choice, but the cups and bread will be provided, along with instructions.
If you are not local, and would still like to participate, please prepare a drink and cracker of some sort.
At the 38 minute mark, you'll hear the Scripture for Communion and a Prayer.
Please pause the service on your computer to share these words of communion – knowing we are all sharing together.
This bread, which we bless, is the
communion of the body of Christ.
[eat with grateful hearts]
This cup, which we bless, is the
communion of the blood of Christ.
[drink with grateful hearts] 
Please press play to continue the service as we worship together.