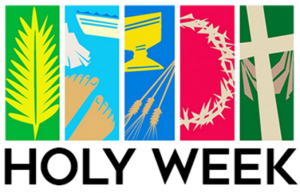 Even though we are not together in person, it is good to "gather" in worship from wherever we are, and reflect on this most holy journey to the empty tomb.
Love Feast – Thursday, April 9 at 7:00 PM  (YouTube)
Go to www.VirtualLoveFeast.com, and click on the "YouTube" button. The first voices you hear will be familiar to you – Pastor Angela, Lucas, and Eric open the evening with a reading from the Gospel of John. You'll hear them again later in the service, along with many other voices you may recognize: Tim and Audrey Hollenburg-Duffy; Mandy North; Matt Rittle; Richard Wehrle; Bill Scheurer from On Earth Peace; Steve Schweitzer, Dan Ulrich, and Denise Kettering-Lane, all from Bethany Seminary; and many more.
This time of worship features familiar Scripture, hymns, and invitations to confession and communion.
We would like to invite you to partake in communion in your home. Please have your bread or cracker and cup of liquid ready.
At the 38 minute mark, you'll hear the Scripture for Communion and a Prayer by Pastor Matt Rittle.
Please pause the service on your computer to share these words of communion – knowing we are all sharing together.
This bread, which we bless, is the
communion of the body of Christ.
[eat with grateful hearts]
This cup, which we bless, is the
communion of the blood of Christ.
[drink with grateful hearts]
Please press play to continue the service as we worship together.
Good Friday Service – Friday, April 10 at 7:30 PM (YouTube)
This brief service is being offered by members of our congregation.  Go to https://www.youtube.com/channel/UCQciNsGk2y-ELiRTIXJe1Hw

and select "Good Friday".  Feel free to light your own candle, and then extinguish it as Suzie plays the haunting spiritual "Were you there?"
Feel free to share these links with your friends.  We will see you Sunday morning at 11 AM on the church Facebook page – https://www.facebook.com/Nokesvillecob/ – for a joyous Easter celebration.