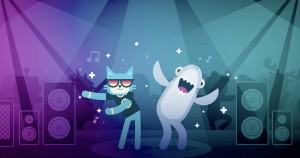 The young adult group from Arlington and Washington City CoBs have invited us to join their mid-week dance party Wednesdays at 5:15 on ZOOM.  (Young Adult is a state of mind  – all are welcome, including children).
To feel comfortable with the "required skill level" (i.e. none), here is a super short video (less than a minute) from a previous gathering – https://www.youtube.com/watch?v=_CFy02cbpiI
This is an opportunity to gather with other NoVA Brethren folks and get your body moving a little bit.  The event is led by Shawn Lent – an incredible human being.  You can find out more about her at:  https://shawnlent.com/?fbclid=IwAR26hP4psCWzfgpLzHmX1IAXkvCLxeB_iqFvKb4E9lt4jrbNmqg-PkKnAfE
Watch for an email each Wednesday morning with the link, or contact the church office.   This is a recurring event, so put it on your calendars.  What a great opportunity to take care of your body and your spirit.