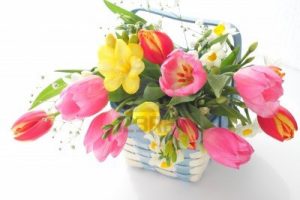 Spring is in the air; daffodils are coming up! It is time to place your order for spring flowers to decorate the front of the sanctuary Easter Sunday.
Our vendor is offering tulips (pink, purple, red, yellow) and hyacinths (blue, pink, white). We cannot choose colors. The tulips have 4-5 bulbs; the hyacinth has 3 bulbs, planted in 6-inch pots and covered with green foil. The cost for each plant is $8.00.
Since the order time is short, please call me, Gayle Hawkins, 703-987-5395 or email
gramma9499@comcast.net
. You may send me a check or include in your offering envelope, clearly marking for Easter flowers. Orders must be in by Wednesday March 17th.
Please call it you have questions.
Let's fill our sanctuary with spring showing our love for our risen Lord!
HAPPY EASTER.