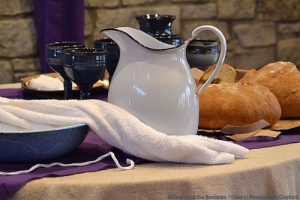 Please make it a point to participate in Love Feast this Thursday, April 1, at 7 PM as we remember the Last Supper.  We will gather by Zoom (or by phone) to share in Fellowship and Worship.
Of course, this won't be the traditional Love Feast.  We won't share a meal together, and we cannot wash one another's feet.  It strikes me that Jesus had to put together the Last Supper that we commemorate on the fly as well.  He wasn't at home, surrounded by the comforts of his local synagogue.  He was basically displaced with his group of disciples.  He was making due with a borrowed donkey and a loaned upper room.
In the spirit of "community while displaced," please join in this meaningful (but different) service.  Please have your communion elements with you as we gather.  If you don't have "traditional elements," feel free to use your own crackers or cookies and some water or juice. 
Please contact the office for Zoom information – we don't publish that online