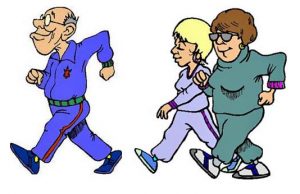 Too much Zoom? Let's get out and be active together! The outreach team would like to form a walking club for exercise and fellowship.  Let's meet at the church parking lot and walk, at your own pace and at a distance that's comfortable for you, on a regular basis.
We also want to thank those who have been picking up trash recently.  There are several in our congregation who quietly participate in this ministry.  If you would like to join in that, please bring a bag to collect trash as we walk.  There are disposable gloves available at the church if you'd like them.
Weather permitting, every Monday morning we will meet at 10:00 a.m.  No reservations required.  Wear your mask and good walking shoes.  Bring water if you wish.  All are welcome!