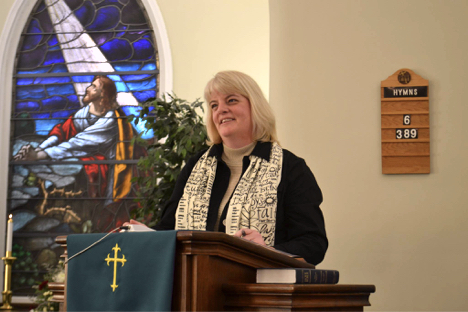 During this time of physical distancing, please join us for worship each Sunday morning at 11:00 am through Facebook Live.
For those without Facebook access, worship services are archived and can be viewed, once they've ended, anytime without a Facebook membership.  You'll find links to the services below.
Each Sunday at 1 pm, Pastor Angela preaches the sermon live which can be accessed by phone for those without Internet access.  To participate, call 301-715-8592.
When asked to enter your meeting ID, dial 795 -992-430, followed by the # sign.  You will be asked to enter another number.  You don't need to do anything – just wait.
May your faith be strengthened as we worship together.
***
June 28 – Philippians 4:10-23 – Thermometer or Thermostat?
June 21 – Philippians 4:1-9 – Choose Joy
June 14 – Philippians 3:17-4:1 – Being Good Citizens
June 7 – Philippians 3:1, 4b-14 – Where is Your Identity?
May 31 – Numbers 11:24-30 – Pentecost/God's Uncontrollable Spirit
May 24 – Philippians 2:1-13 – It's Not About Me
May 17 – Philippians 1:12-26 – Joy Unfettered
May 10 – YOUTH SUNDAY
May 3 – Philippians 1:1-11 – Anticipation
April 26 – Psalm 116 – I Love
April 19 – Acts 2:14, 22-36 – Mission Possible
April 12 – Matthew 28:1-10 – Accompanied by the Risen Christ
April 5 – Matthew 21:1-11 – Life-giving Turmoil
March 29 – John 11:17-45 – Another Way of Living: Revisiting Grief
March 22 – Mark 4:35-41 – Another Way of Living:  Revisiting Faith
March 15 – Matthew 6:25-34 – Another Way of Living:  Revisiting Simple Living