Nokesville Church of the Brethren is pleased to host artist Steven Zeigler on Saturday,  September 29 for a series of workshops that are open to all skill levels – even the most novice! Registration fee includes cost of supplies, and all other proceeds from these workshops benefit the Major Maintenance campaign of the church. You may register for a single class, or spend the day exercising the creative part of your brain.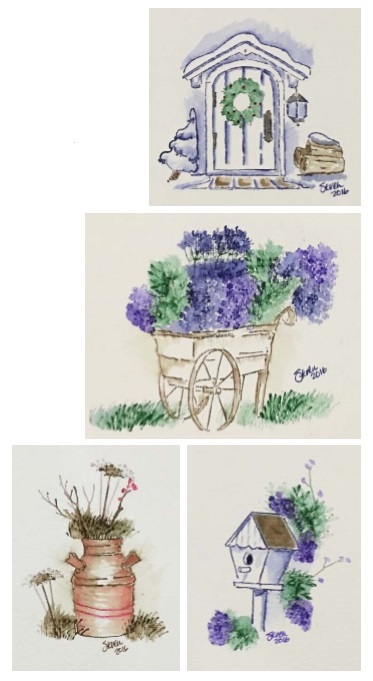 Welcome (Back) to Watercoloring!  
Class Fee*:  $45.00
9:30 AM to 12:00 PM
Join Steven as we learn (or revisit) watercoloring the Art Impressions way!  Art Impressions has designed a fun and easy way to watercolor using stamps and markers to produce a finished watercolor project that will amaze your friends and family!  This class is great for first-timers, as well as others who may have taken an Art Impressions' Watercolor class before (either at the store or at a convention) and need a refresher!  In this class, we will start off with basic watercoloring techniques and then move on to complete four projects that you can turn into cards, pictures, scrapbook layouts, or other projects later on!
This is a technique class, and we will go at a steady pace to ensure we finish the projects but also ensure that questions are answered, and we master the basics.  Supplies to Bring:  No supplies necessary for this class!  (Please note:  Class kits are provided directly by Art Impressions.  Pictures represent a sample of what you will make in class, but class projects may be different depending on the class kit offerings by Art Impressions at the time of the class.)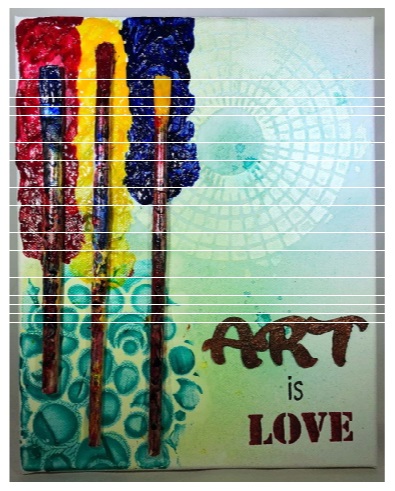 "Art Is Love" Mixed Media Canvas
Class Fee*:  $35.00
1:00 PM to 2:00 PM
Have you ever wanted to learn about mixed media but didn't know where to start?  Or maybe you're a mixed media fanatic and you're looking for new techniques, products to try, or just want to complete a fun canvas!  Join Steven as we delve into the world of mixed media using products by Art Anthology to create an "Art is Love" canvas.  You'll get an opportunity to play with some of Art Anthology's latest products, including its new dimensional medium line "Shine," as well as Velvets, Rust Effects, Coloration Sprays, Mud, and stencils!  No mixed media experience necessary, just an open mind to have fun, experiment, and walk away with a great finished 8″ x 10″ canvas!  Supplies to Bring:  Black Sharpie marker, baby wipes (or equivalent) and apron (or wear old clothes).  Heat gun and disposable gloves are recommended, but not required.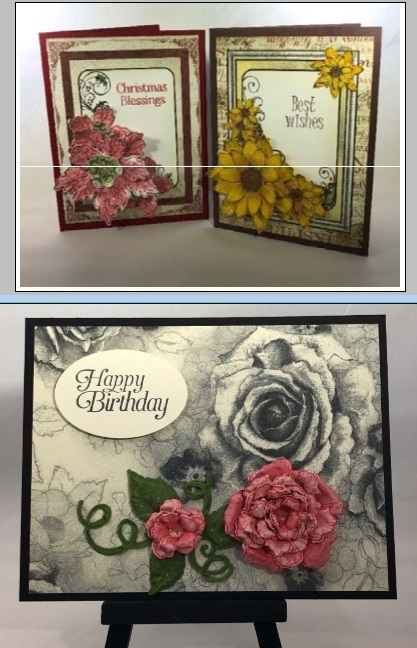 Heartfelt Creations "Flowers and Fun" Class
Class Fee*:  $35.00
3:00 PM to 4:00 PM
Heartfelt Creations has brought us some truly amazing projects featuring 3-D flowers!  Now, they have made it even easier with their 3-D shaping molds!  Come join Steven as he talks about the entire Heartfelt Creations line, including product collections and other products, while we make three beautiful cards featuring 3-D flowers using Heartfelt Creations' new 3-D shaping molds.  Using these molds, you'll be a "flower shaping" expert in no time and can begin to add these amazing effects to your cards, scrapbook layouts, or other projects that are sure to wow family and friends! Supplies to Bring:  Dry adhesive, such as a tape runner; wet adhesive, such as Art Glitter Dries Clear glue or Tombow Glue; 3-D pop dots.
*Your Class Fee includes the cost of supplies and an instructor fee.  For this "Day of Crafty Fun", Steven is donating his entire instructor fee to Nokesville Church of the Brethren.  Following each workshop, there will be a "Pop-Up" Store where you can shop for the merchandise used in each class.  Thank you for registering and supporting Nokesville Church of the Brethren!
How To Register
To register, please visit the following link:  https://goo.gl/forms/W4hCgm6SEDE4ZjUF2
Please fill out the Google Form to register for classes and order optional pre-order items.  Please make sure the email address you use in your response is correct.  Upon submission, you will receive a confirmation of your form submission.  You will receive an invoice for your class deposit and any optional pre-order items that you ordered within 3 business days.  Payment can be made via that invoice by credit or debit card.  You are fully registered, and your seat is confirmed, once payment is received.
Cancellations:  If you need to cancel after you have registered and paid, please email Steven at stevenlovesstamping@gmail.com.  You may cancel and receive a refund of your class deposit until September 14, 2018.  After September 14, your class deposit is non-refundable, but you may transfer your seat to another participant.