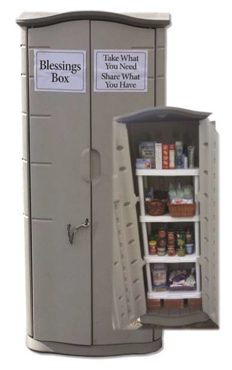 We care about our community! The Blessings Box is one way we show it. The weather-proof, unlocked box is available 24/7 and sits at a corner of our property on a public street. It is filled daily with non-perishable food, laundry supplies, dishwashing soap, paper products, feminine hygiene products, personal hygiene products, and baby diapers and wipes.
We have learned that food pantries and shelters don't provide those kinds of items to anyone that receives food but doesn't stay in the shelter – those who need help in the gap between paychecks. It appears that many folks who are taking those items are "paying for them" by donating extra food items back to the box – participating in the life of the box fully. It's a joy to behold!
If you would like to contribute the items we currently need, you are welcome to just stop by and put them in the box if the church is not open. The box is located at 13002 Fitzwater Drive, on the corner of Fitzwater and Nokes Street (map).
Current Needs:
Baby Wipes
laundry detergent
dishwashing soap
Thank you so much for helping us build a stronger community in Nokesville!