Nokesville Church of the Brethren
February 2023 Newsletter
PASTOR'S PONDERINGS
February. What's significant about this month? We have a few holidays but in general, it seems to be a month of cold weather, gray vistas, and longing for the season of spring.
Years ago as I spent time with a mentor, she reminded me that even when we can't see things looking brighter, it doesn't mean that there isn't something happening. She pointed out that nature during this winter season seems to be silent. Yet, underground, trees and bulbs are being prepared to push forth in new life. Nonetheless, the season of gray can seem too long to bear.
Jesus spent 40 days in the wilderness before he began his ministry. He was tempted at the end of those 40 days when he must have been depleted in so many ways. But his response to the temptations was the word of God and the worship of God.
During my life, I've experienced long periods when I couldn't see the good things coming. During those times, I was aware that God was my only constant. Did it mean I didn't question things and cry out, "How long will this season last?" Not at all. But the more I turned to God in each of these experiences, the more I recognized the seasons of life. Just as in nature, there will be a season of rebirth that happens after the one that seems stuck. Just as in nature, the buds and blooms in life will be different than the last time. It's a process and will feel like having to break through hard ground. But God's goodness will be made evident.
The constant in all this change is that God is with us and for us. God showed us that by sending Jesus. I don't have any answers for you as to the why of your February season. I can, though, speak to God's faithfulness of presence and peace as I turned toward him during my hard times.
I encourage you to trust that God, who keeps nature cycling through the seasons, will do the same for you. Glimpses of new growth are in process even now. Look to our merciful and compassionate God who promises to make all things new.
Grace & peace,
Pastor Janet
SERVICE & COMMUNITY ENGAGMENT
Senior Socials: The volume of donations to the Blessings Box given by the seniors at the December Social was impressive!!  Education and entertainment in January was provided by Irene Croushorn who shared her talents and expertise as a stained glass artist.
CWS Blanket Drive: The up-dated total for this project is $195.  Thanks again for your generosity toward our neighbors in need.
Field of Boaz: This is the northern Virginia contribution to Growing Hope Globally.  The NCOB sponsorship of one acre at Midland is $500.  $340 has already been collected.  Fundraising projects will be announced soon.
Death Row Support Project (DRSP): The traveling art exhibit, "The Nature of it All: Visions, Dreams & Greetings from Afar", has been installed on the mezzanine level of NCOB.  It will be available for viewing through the month of January.
New Community Project:  This campaign was designed to benefit displaced pygmy communities in need of income-producing activities.  Clara Nelson led the fund-raising effort which raised $360 toward their request for sheep in those Rwanda communities.  NCOB's donation was the first made specifically for this project.  Congrats!
This team is currently meeting via ZOOM on the second Monday of each month at 7pm.  Contact Lyn, Dianne or Nancy if you are interested in joining this team or have ideas for fundraising for projects.
CONGREGATIONAL LIFE
The Congregational Life Ministry Team met in January to plan our events for 2023. We are excited to provide monthly opportunities for congregational fellowship.  If you are interested in seeing our events for the year, please check the Church Calendar.
Thank you to everyone who signed up to share breakfast for our weekly coffee hour!  We will continue to post monthly signup sheets on the board in the narthex.  Your participation is greatly appreciated!
The team, along with the Service and Community Engagement ministry team, is considering hosting food truck evenings in our parking lot this spring-fall.  If you have any connections or ideas to make this potential activity a success, please reach out to someone on the Congregational Life Ministry Team.
Save the Dates!
On February 18, we will host a Music and Desserts evening.  This evening will feature friends of Pastor Janet and David as our musical guests.  All are invited to join us for the evening.  Plan to bring a dessert to share.
The Kids and Youth Activity Committee continues to host monthly kids' activities.  The February event will be a Valentine's Day party on February 12 immediately following worship. We will have lunch, activities, and exchange Valentines!
See the bulletin and upcoming Constant Contacts for additional information on these upcoming events.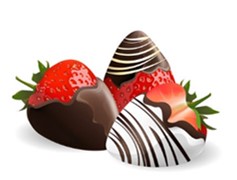 CHOCOLATE COVERED STRAWBERRIES
Treat your sweetheart or yourself to a delicious treat for Valentine's Day made by our youth.
6 Hand Dipped Strawberries – $10
Chocolate Covered Strawberries Order Form (google.com)
Payment due at the time of pickup, cash or check (made payable to NCOB Youth).
Orders due by Sunday, February 5, 2023. Please use the link above.
Pickup on Sunday, February 12, 2023, immediately after church.
Please contact Heather Nelson (703.577.2919) or Jackie Bear (703.835.3613), with any questions.
RAINBOW PRESCHOOL NEWS
Thank you to Kerry Molina for all the great craft supplies!
We will begin registration for 2023/2024 on February 1 for returning and church families.  Registration opens to everyone on February 15.  Please check our website (rainbowpreschool.us) or Suzie Evans (rainbowpreschool538@gmail.com) for more information.
FLOWER SHARING
We have created a Signup Genius so you can order flowers online.
https://www.signupgenius.com/go/4090E4EABAE29A4F94-2023
Your offerings can be made through our website.
https://www.continuetogive.com/ncobbudget
SERVING FEBRUARY 2023
 
 

February 5

 

February 12

 

 

February 19

 

February 26

 

Worship Leader

 

Chris Taylor

Dianne Nelson

Pam Flory

Bev Slabaugh

 

Acolytes

Alex Ali

Harper Buettner

TBD

Norah Buettner

 

Children's Story

 

Pam Breslin

Matt Nelson

Gayle Hawkins

Dianne Nelson

 

Nursery

Jackie Bear

Melanie Ali

Carrie Diethorn

Pam Breslin

Lyn Ficili

Katlyn Douglas

Dianne Nelson

Jackie Bear

 

Pianist

 

Suzie Evans

Suzie Evans

Suzie Evans

Suzie Evans

 

Organist

Mary Weybright

Mary Weybright

Mary Weybright

Mary Weybright

 

Hymn Leader

Jeannette Funkhouser

Jeannette Funkhouser

Jeannette Funkhouser

Jeannette Funkhouser

Flowers Are given to the glory of God by

Lyn Ficili in honor of Tony Ficili's birthday
Office Hours: Monday – Friday, 9 a.m. – 1 p.m.
 Coffee Fellowship 9:30 a.m.
Sunday School 10:00 a.m.
Sunday Worship Service 11:00 a.m.
Pastor Janet's Office Hours
Tues – Fri
9:00 a.m. – 1:00 p.m.
pastor@nokesvillecob.org