Mission Statement
We will continue the work of Jesus Christ, sharing the Good News with all people, through faith, love, and service as we are spiritually strengthened through the community of faith.
Vision Statement
We have no creed, but believe the New Testament to be the guideline for our lives. We follow Jesus Christ and attempt to follow in His footsteps and live in a way that glorifies Him every day. In this journey we also remember the saving grace and forgiveness that Jesus gave us through His death and resurrection. It is with this in mind that we, as Christians, offer forgiveness to others and show them the way that Jesus is working in our lives.
We seek to find the peace of God within ourselves and with others according to Matthew 5:23-24, which reads, "So if you are about to place your gift on the altar and remember that someone is angry with you, leave your gift there in front of the altar. Make peace with that person, then come back and offer your gift to God."
We believe that each of us has God-given gifts that are needed by the church and should be fostered by the church. We believe in expressing our faith and commitment through many mediums. Because of this, we support education, music, and recreation of many kinds. We believe that these expressions of faith can allow us to be more effective in our community and provide the basis for making and maintaining new relationships.
We believe in doing work outside of the church building. It is because of this that we participate in many community events, such as Nokesville Day, Community Good Friday, Thanksgiving and Live Nativity services, the Blessings Box, Senior Social Events, Community Sewing Day and Farthest Corners, to name a few. We believe that in order for us to do the work of God, we must be active members of our community.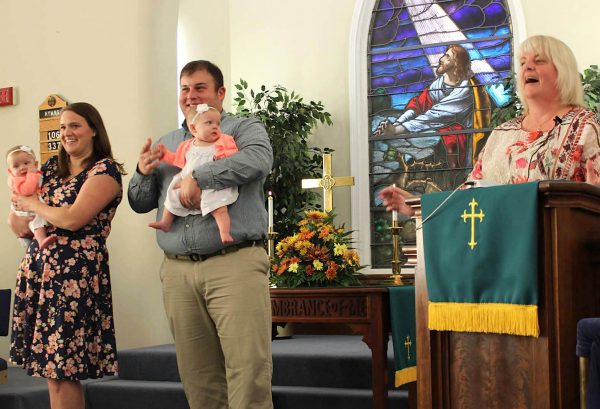 Baptism
We believe that baptism is an outward expression of an inner transformation in our hearts. It is a public testimony that we believe in and accept God's saving grace. And, it marks God's blessing on a new beginning. We, therefore, believe that a person should be old enough to make their own decision before being baptized. However, children are important to us, and we welcome them into our church family and pledge our support to the parents through a service of Baby Dedication.
Love Feast
The Church of the Brethren is unique in the manner in which we commemorate the Last Supper shared by Jesus with his disciples during Holy Week. We call this time of remembrance "Love Feast." Twice a year we gather for a simple meal with periods of reflection and fellowship. There is a time of communion with the sharing of the bread and cup. As an additional symbol of Christ's service and our responsibility to serve others, the Love Feast includes a service of foot or hand washing. We welcome all levels of participation, including simple observation, if preferred.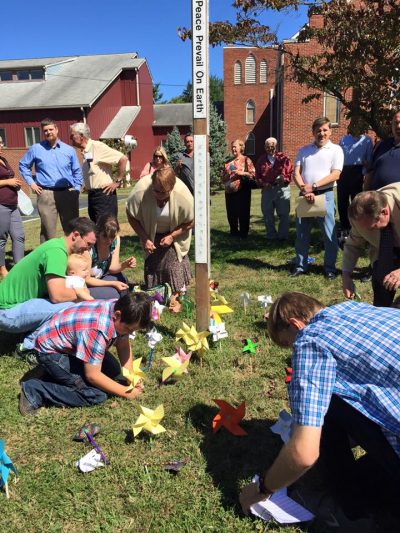 Our Commitment to Peace
Whether the conflict involves warring nations, racial discord, theological dispute, personal disagreement, or mere misunderstanding, Brethren listen conscientiously, seek guidance in the Scriptures, and work toward reconciliation. We practice peaceful living. Our longstanding commitment to peace and justice includes a deep regard for human life and dignity. Brethren reach worldwide to help repair the ravages of poverty, ignorance, exploitation, and catastrophic events. Along with our faith, we bring food, books, classes, tools, and medicine. Living peacefully, to the Brethren, means treating each person with the attentive, compassionate respect that all human beings deserve.